Ergonomic Kneeling Chairs
Ergonomic/Supportive/Comfortable/Posture Correction
kneeling chairs feature with ergonomic design to promote you to maintain a healthy and good sitting posture. By supporting your both knees and thighs, your body weight can be dispersed evenly to reduce the pressure weigh on your lumber spine. Thus, improve your back pain, neck pain and take the stress off the spine. All the supportive foams are 3.54in thick to add more comfort. Please note, slowly add time using the chair to get used to the new sitting way.


Features
Posture Correction
- It's time to deal with your back pain, neck pain or lumber spine problem due to wrong sitting posture on the traditional office chair. This Ergonomically designed rocking kneeling chair can help you set up a upright posture and free your spine from pressure, therefore relieve your upper body aches and change your sitting habits.
Relieve Stress
-This orthopedic kneeling chair can prompt you stay in the most healthy and right sitting position. Even sitting for a long time won't make you feel unease. Note: You may feel strange from beginning, please gradually add time sitting on the chair to get used to it. Trust me, you'll love it!
Firm Structure
-This wood kneeling chair is carefully designed with bent angle to form a rocking motion like a tumbler. The cross bars can help set the chair with firm structure, stable and secure. Features with 20 layers beech wood piled up to make the chair frame, this kneeling chair can hold up 200 lbs. All the cushions are 9 cm/3.54 in thick, with sponage fitting, comfortable and breathable.
Wide Application
-This kneeling chair can replace the traditional chair in your every day life, like desk chair for work, for meditation, for entertainment, etc. You can have it in living room, study room or guest room at home. Every one come to your home will be drawn to it. Good and healthy sitting habit will be the benefit this kneeling chair can get to you.
Perfect Service
-Package come with all the components and setting tool. Detailed installation manual is included as well. Any problem regarding this kneeling chair can contact our for help. We'll reply your message within 24 hours. Have this kneeling chair is to embrace a healthy sitting way.

Highlights
A Healthy Way of Sitting by Kneeling Chairs
Relieve Back Pain/Neck Pain
Increase Working Efficiency



Product Specifications
Material: 20 layers of beech wood
Hardware: Uniform high-quality metal screws and setting tool
Cushion: Two knee pads and one sitting foam are fitted with sponge foam, thick and comfortable
Knee Pad Size: 10.2 in x 5.9 in x 3.54 in (L x W x H)
Seat Cushion Size: 15.7 in x 11.8 in x 3.54 in (L x W x H)
Kneeling Chair Height: 21.85 in, makes it suitable for most people and the majority desks.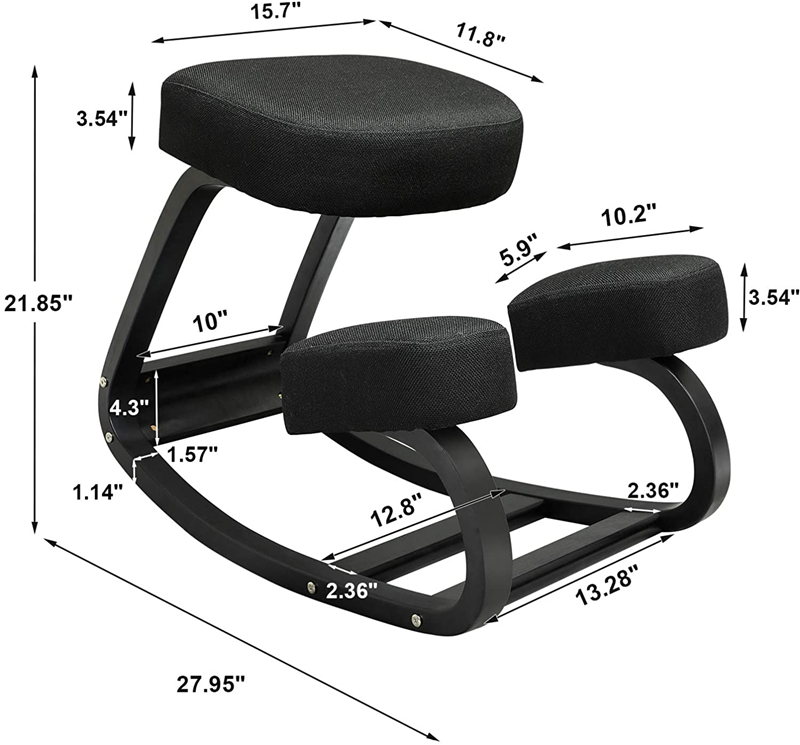 Package includes
1 x Ergonomic Kneeling Chair